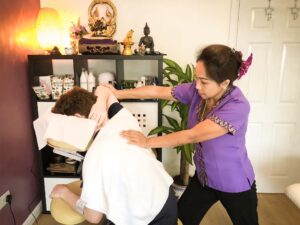 I deliver hands-on massage treatment for health and well-being to the workplace and local events.
One of the best ways to rewards the hard-working employees is to relieve work related stress and tension in the work place. My unique treatments for staff increases creativity and productivity while ensuring a team feels valued, appreciated and reinvigorated. Workplace massage will allow maximum comfort for head, neck, back, shoulders and arms; typical problem areas for those working at a desk over long periods.
In addition to the physical benefits of this treatment, the pressure applied over the body improves circulation supplying the brain with more energy to motivate the body and apply itself in stressful circumstances.
Onsite massage only takes 20-30 mins per person. You can choose to have treatments weekly, monthly or twice a month. Only a small area in the office or meeting room is required where participants can break away from the noise of work.
Unlike most treatments, the Onsite chair massage is designed for the workplace, dispensing with the need for oils or creams. It's quick, clean and easy!